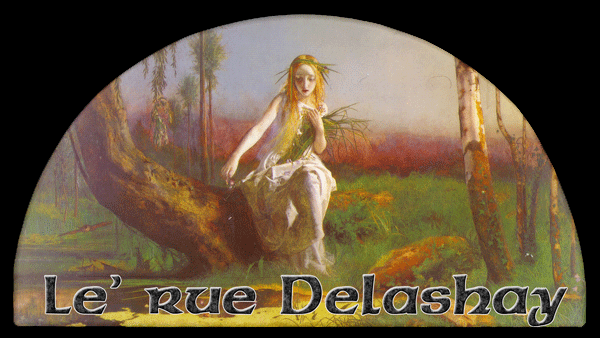 Composer and Orchestrator . 1362 Lucile Avenue, Suite #4 . Los Angeles CA 90026 . USA

Le' rue Delashay is a Los Angeles based Composer who
has Composed Classical Works for over a decade, supplying music for Numerous Companies;
From Film & Television, to Commercial Works ranging from Haunted House attractions to Multi-Media Applications.

RELEVENT SKILLS & EXPERIENCE
Le' rue Delashay has worked with various companies and individuals over the years, and has a wealth of experience in
the creative process of producing effective Compositions and Soundscapes. He has worked with some of the World's foremost
Musicians, including Working with Oscar Award winning Composer Jan A.P. Kaczmarek.
His Clients Include Playboy Entertainment, and he works Closely with Companies such as Fangoria Magazine, Vire Corporation, and many others.

PRODUCTION and POST PROCESSING
Pro Tools, CuBase, Waves, Melodyne, Symphonic Choirs, Symphonic Orchestra, Storm Drum, Dan Dean Solo Strings,
Garritan "Stradivari", Miroslav Philharmonic, Atmosphere, Outer Limits.


COMPOSITION & SOUND DESIGN

FILM SCORES
............................................................
............................................................2008. "The Horsemen" Assistant to Composer Jan A.P. Kaczmarek
.........2008. Composer "The Homecoming"
..................2008. Composer "Dead men Do tell Tales"
....2007. Composer "33 Griffin Lane"
......... ...2007. Sound Designer "33 Griffin Lane"
........2007. Composer "The Book of Lore"
2006. Composer "The Taunting"
2006. Composer "The Deviants"

CD RELEASES


.........2008. "The Cycle of Fifths"
.............................2005. "Revelations of Wave and Form"
...2003. "The Law of 8ve"
............................2001. "Musick in Theory and Practice"
...........1999. "The Court Composer"
..........................1995. "Walpurgisnacht, the Haunting"

COMMERCIAL AFFILIATES & CLIENTS...

Playboy Entertainment, Fangoria Magazine, Gothicfest, Evening Eclipse Candles,

Vire Corporation, Episode 93 Productions, Midnight Crew Studios, J.D.B. Movies, Outrageous Media,

Ninth Gate Magazine, Paradigm Recordings, Purging Talon Productions, Root of all Evil Records.

CONTACTS

( Please Contact for Referal Information )

Le' rue Delashay 1362 Lucile Avenue, Suite #4, Los Angeles CA 90026