JANUARY 15th, 2009
"The Ballad of Angel Face" to be shown at the Cannes International Film Festival in France this Year.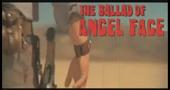 The Ballad of Angel Face is a Grindhouse Spaghetti Western filmed in the classic Tradition by Director Brian T. Barnhard. The film has a Tarantino'esque feel reminiscent of the Kill Bill series, with plenty of action and gore thrown in. If you can imagine Guns, Mutilations, run-away Mine Carts, and Mexican Wrestling Masks, you are on the right track to enjoying this film.

MAY12th, 2008
JOHN RODD to Master "The Cycle of Fifths"
Wonderful news, I managed to get World Reknowned Engineer John Rodd (Pirates of the Caribbean, Matrix trilogy, and a list 10 miles long...) to do the final Mastering session for "The Cycle of Fifths".
John Rodd is a freelance music recording engineer based in Los Angeles who records, mixes and masters music for a wide variety of projects. He is most known for film score recording and mixing.
Before going freelance in 2004, John spent seven years as orchestral scoring recordist at 20th Century Fox's legendary Newman Scoring Stage in Los Angeles. Films worked on at Fox include I, Robot, The Last Samurai, Spider-Man 2, Pirates of the Caribbean, The Matrix (trilogy), Cast Away, X-2, Jurassic Park III, The Bourne Identity, Road to Perdition and The Sixth Sense.
Prior to working at 20th Century Fox, John worked at Ocean Way Studios in Hollywood. Highlights of this time include working with The Rolling Stones, Porno for Pyros, Eric Clapton, The Red Hot Chili Peppers, Michael Jackson, Whitney Houston, Ry Cooder, Madonna, Boys 2 Men, and many orchestral sessions.
John was nominated as "Best Score Mixer" in 2007 by the Film and TV Music Awards. John also has credits on numerous gold and platinum selling CDs

APRIL 21st 2008
DEAD MEN DO TELL TALES
Le' rue is currently Scoring music for "Dead men DO tell Tales", a series of Gruesome and Macabre Short Stories in the vein of "Trilogy of Terror" and "Twilight Zone, the Movie". Produced by Midnight Crew Studios, this release should see Distribution later this year.

MARCH 22nd 2008
THE HORSEMEN
Le' rue Delashay has spent the last month working as Composer Jan A.P. Kaczmarek's Assistant for the upcoming Feature Film "The Horsemen" starring Dennis Quaid. We were in the Studio this week recording the Orchestral Score for the Movie, and The Horsemen should be completed within the next Month. Watch for it at a Theatre near You This Summer.

FEBRUARY 12th 2008
THE HOMECOMING
Le' rue Delashay has finished scoring music for the Movie "The Homecoming" by Director Todd Kniss. This is Le' rue's second Film collaberation with Mr. Kniss, and is a psychological thriller due to be released on DVD though Major Retail Distributors and Video Rental Chains.

FEBRUARY 9th 2008.
FANGORIA MAGAZINE
Fangoria Magazine's online "Gore Store" have signed on to distribute Le' rue Delashay CD's. Fangoria is North America's Largest Horror Publication and is internationally distributed.

NOVEMBER 28th 2007
WALKING WITH GHOSTS
Paradigms Recordings out of London, England has Printed a limited Edition Compilation CD entitled "Walking with Ghosts" which features Le' rue Delashay's Unreleased track "Death and Rebirth".
This Compilation is a wonderful collaberation of Dark Atmospheric Composers and is a must have CD for collectors of Arcane and Evocative Soundscapes.

JULY 7th 2007
OLD NICK MAGAZINE
Le' rue Delashay has written an Article on the History of the Devil in Classical Music for
Old Nick Magazine, a Gentlemens Magazine ( of the devilish Persuasion!)

JUNE 23rd 2007
GOTHICFEST DVD
Gothicfest have just released a DVD which captures all the Performaces of GothicFest 2006. They have also Included some of Le' rue Delashay's compositions into the DVD as Soundtrack and Credit Music.